Por Wendell Borges
Mais duas descobertas do dia. Navegando pela web deparei-me com mais duas revistas que trabalham com o horror, cujos sites visualmente acachapantes merecem uma espiada. O visual retrô com letras gore do site da Mad Monster me atraiu logo de cara, já a Girls and Corpses também é visualmente belíssima, e dispensa muitos comentários à primeira vista. A Mad Monster já tem dois números que estão à venda e podem ser encomendadas via paypal.
[Clique aqui ou na imagem abaixo para acessar a loja da Mad Monster]
[
Aqui o link para loja da Girls and Corpses ]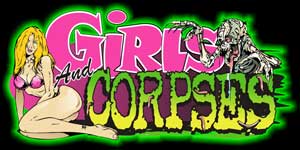 Chaveirinho básico extremamente cool por U$ 15.95 doletas na loja da Girls and Corpses.
_______________________________________